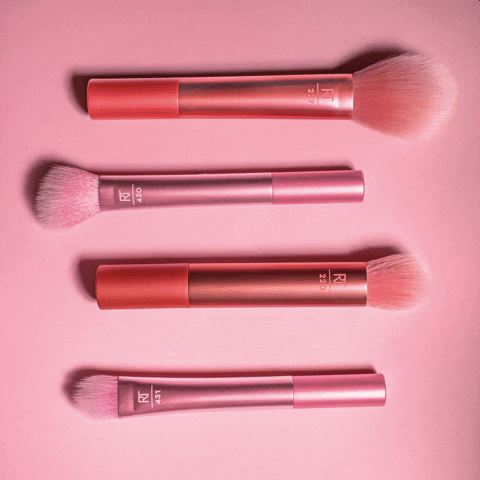 If you enjoy makeup to any degree, you would understand the pain, that comes with cleaning makeup brushes. While wearing makeup itself is enjoyable, when it comes time to finally clean our tools, it can feel like a daunting task that takes forever. Of course, washing our brushes is crucial. They need to be cleaned and sterilized frequently to avoid any bacteria build-up. We all are guilty of putting off this task until later but trust me, you don't want the risk of getting acne or breakouts by using dirty brushes.
The most annoying part probably is how time-consuming it can get. That and the fact you have to let them dry for a few hours and sometimes even overnight. But, what if you are in a rush and you totally forgot to clean that essential brush you need to use right away? Luckily for us, there are a few quick and efficient ways of getting this done without the hassle. While nothing beats deep cleaning your brushes, the products listed below will do the job for you ASAP. No more waiting hours for those soggy brushes to dry.
Keep scrolling to check out how to clean your brushes in a jiffy:
1. Beauty Blender, Instaclean Waterless Sponge And Brush Cleansing Spray
This waterless cleanser from Beauty Blender is more like a dry shampoo for your tools. Spray your makeup brushes or sponge and quickly clean it by wiping it on a towel. Moreover, it is not just limited to your powder products. You can use to even clean up the foundation on your brushes. And the best part? No need to rinse them with water after. Perfectly handy if you are on the go with limited tools and need to quickly switch from one colour to another.
2. Cinema Secrets, Professional Brush Cleaner
A cult favourite used by professional makeup artists backstage, this brush cleaner is quick-drying, rinse-free and is also 99.99 per cent antimicrobial disinfectant. As a makeup lover, you would know that keeping your tools clean and hygienic is crucial. This cleaner can be used on natural and synthetic fibres without leaving any oily residue. The mini kit also comes with an accompanying tin where you can swirl your brush in the liquid and dab off the excess on a towel. Letting it air dry takes only a few minutes and you instantly have clean brushes on your hands.
3. Simply Nam, Makeup Remover Towel
A new launch by celeb MUA Namrata Soni, the Simply Nam makeup remover towel is an eco-friendly product that removes even waterproof formulas from your face. Thanks to the antibacterial microfiber cloth, it is reusable and easy to wash as well. All you really need to do is pop it into the washing machine. While it works great to remove your makeup at the end of the day, a great trick is to use this to spot clean your brushes and sponges as well. Just as the towel works to lift makeup off your face, it has a similar effect on the brushes. Watch Namrata herself demonstrate how she uses the towel to clean her tools on the go.
4. Vera Mona, The Original Color Switch
The original colour switch from Vera Mona made waves when it first launched years ago spanning many lookalikes across brands. Now it is a must-have for pro kits and makeup lovers alike. It's a dry sponge that removes eyeshadow colours in a flash by just stroking your brush against it. Allowing you to swap out colours quickly. It's especially handy if your travelling with a limited amount of brushes. The only thing to keep in mind is that while the sponge is reusable, it needs to be washed once in a while to remove the leftover pigment.
5. StylPro, Original Brush Cleaning Machine
If washing your brushes feels like a chore, this brush cleaning machine is here to save the day. Just like a washing machine it does all the work for you by cleaning and drying them with some spinning action in less than 30 seconds. Plus unlike traditional methods, it saves time and actually dries your brushes in the end instead of leaving them wet and unusable for hours. No more scrubbing your brushes over the sink for what may feel like forever.
6. Eco Tools, Makeup Brush Cleansing Wipes
Did you know you get disposable makeup wipes for your brushes? These Eco Tools cloths are a great travel-friendly option to instantly get rid of any grime on your brushes. It is dermatologist tested and free of petroleum-based ingredients, so it's safe to wipe your tools and safe for your skin. All you need to do is gently rub the brushes bristles against the cloth until traces of makeup residue are removed. Then let them air dry for about 2 minutes. And Voila, ready to use.
Have you tried any of these products before? Let us know in the comment below.
Don't forget to follow @missmalinibeauty on Instagram for more updates.