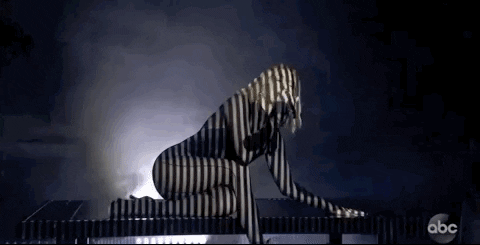 I swear every time I see Jennifer Lopez at an award show, I'm always flabbergasted by her timeless beauty. I mean I shouldn't be surprised every time but it's like she never ages! While her music performance at this years American Music Awards had everyone buzzing, her red carpet look was truly stunning. The silver Balmain outfit was all sparkly gorgeousness but her entire beauty look really caught my attention. The '60s modern glam eye look and short tousled hair perfectly complemented each other. For that, we have to thank celebrity hairstylist Chris Appleton and makeup artist Mary Phillips.
The more I looked at it, the more it seemed doable at home. So with my fingers crossed, I headed over to their respective Instagram accounts to look for clues on how they achieved this beautiful look. Lucky for us common folks, her hairstylist and MUA detailed out the products they used to create this look from head to toe. They probably anticipated peoples' reactions and the need to recreate it themselves because they knew they had created a winning look. So get ready, we're here to break it down so you can recreate this fabulous glam this season for your next festive or holiday occasion like the star you are.
Keep reading to check out how you can achieve JLo's sexy glam hair and makeup by yourself:
1. The Hair
Starting off with the hair, Chris Appleton transformed JLo's hair into a chic above the shoulder lob. He gave her a sexy wearable texture by purposely by making her hair look wet and semi-dry. Here's how Chris styled the new shoulder-skimming cut in just a few steps:
First, while the hair is still wet, apply Color Wow Dream Coat For Curly Hair or a similar product. It's basically an all-in-one curl enhancing product used for glossy, defined waves and curls.
Then dry your hair with a diffuser. Usually, your blow dryer comes with the diffuser attachment so its time to pull it out and have a crack at it.
Once the hair is dry, apply a frizz control serum that works to add some gloss/shine to the hair in two-inch sections.
After that, you'll need a 1.25-inch barrel curling iron. Set it at the lowest heat and twist the hair around it, from the roots till the ends for loose waves.
Finally, finish off this look with a shine spray. Appleton used Color Wow's Extra Shine Spray to achieve that wet-look shine that popped on the red carpet.
2. The Makeup Breakdown
So now that you're done with the hair, it's time to master the makeup look. Mary Phillips, Lopez's MUA listed all the products she used on her Instagram post as well. She mentioned the majority of products shes used are from Pat Mcgrath. To build the retro '60s glam eyes, she used a mixture of the Mothership III Subversive Palette and Mothership V Bronze Seduction Palette. Don't worry if you don't have these luxury palettes on hand, the shades used can easily be replicated by what you already have in your kit.
The Eyes
First, blend a light wash of shade Eyedols Statuesque across the lid and into the crease. This is a matte, soft warm, golden taupe shade.
Accentuate the lower lash line with a dark brown and deep, red-toned brown. Phillips used the shades, Entrapment and Disobedient from Mothership V.
Create the graphic '60s cut crease with an eyeliner and an eyeshadow. First, create a defined outer V crease with an intense black eye pencil. Then go over it with a black liquid eyeliner.
Diffuse this by using the black eyeshadow in the palette.
Next, illuminate the inner corner of your eye and middle-lower lash line with a pop of pink shimmer. The shade used is Astral Ghost Orchid from Mothership III.
Complete the eye look with your favourite, dark, volumising and lengthening mascara plus some false lashes.
Final Touches
JLo's looks are all about that dewy skin with a glow from within. So don't forget the highlighter on all the high points of the face. Layer with a light cream highlight first and then top it off with a subtle wash of highlighting powder on your face and décolletage.
Finally, line your lips with a nude brown pencil paired with your favourite nude lipstick. Top it off with a beige gold lipgloss to achieve the subtle sheen.
And that's it! You're done. I know it may seem like a lot of steps but surely the end result is totally worth it! Just put on your favourite silver sequin dress and you're ready to party the night away.
What's your favourite Jlo's look in the past or present? Let us know in the comments below
Don't forget to follow @missmalinibeauty on Instagram for more updates.