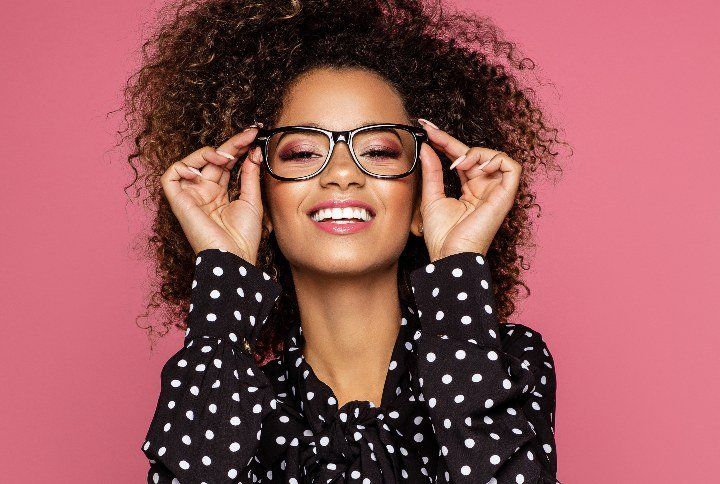 Calling all bespectacled beauties! We know how tough it can be to get your makeup looking good well wearing glasses. In fact, it's about time we squashed the old school thought that makeup and glasses don't mix. The eyes are the window to the soul and your spectacles are the perfect frames bringing in the attention. But as any spec-wearers will know, it can be frustrating to create a full eye look or address the dents in your foundation. Not to mention how some lenses magnify your eyes, while others will make them seem smaller. Luckily all you need are these are a few tips and tricks to get your makeup looking good. Don't worry they're surprisingly easy to follow too!
Keep reading to check out the best makeup tips for glasses wearers:
1. Consider your brows
Just because you're wearing glasses doesn't mean you can skip out on your brows. Depending on the frames you pick and overall look it may emphasize your brows differently each time. So you want to spend some time grooming your brows and shaping or filling them in accordingly. Plus if your lenses magnify, you're going to see all those stray hairs so keep your tweezers handy and clean up.
2. Avoid heavy foundation
Don't you just hate it when your glasses or sunnies mess up the foundation on your nose? Not to mention nose pads leaving behind dents or red marks on the bridge of your nose. In this case, the best tip is to apply less coverage in that area. Ideally, you want the finish to stay matte where your nose pads sit so they don't slip around and rub off your foundation. Another useful hack is to use an eyeshadow primer on the bridge of your nose before foundation and setting with powder. Slightly tackier than regular primers, they will give your glasses something to grip on. This will keep your foundation staying put through most of the day.
3. Define your eyes
Eyeliner has always been a failsafe way to accentuate and define your eyes. To balance your eye look it is recommended to always match the thickness of the glasses frame with the eyeliner to create even symmetry. Or if you're worried your lenses are magnifying things too much keep your liner darker and smokier. This will make your eyes look less bug-eyed. Similarly, if your lenses make your eyes look smaller opt for some nude liner along the waterline, and a cat-eye shaped winged liner to help widen them. Overall don't use too many different eyeshadow colours. Focus on accentuating areas like the crease and lash line instead to make your natural look just a bit stronger.
4. Pick the right frames
Overall stylistically, you don't want your glasses to clash with your look. When deciding your makeup you need to take into consideration the type and shape of frames you're going to wear. Are they thin, thick, the colour and etc? Moreover, depending on the style of glasses you opt for, more or less of your eye will be visible, which will alter your eye look.
5. Don't forget concealer
The glasses you wear tend to cast extra shadows around the eye area. While the lens can even highlight creasing in your makeup making things even worse. In this case, it's important to counteract this by using a light-reflecting concealer that'll neutralise discolouration and stay put. If you want a fresher appearance first go in with a peach or orange corrector then go in with one shade lighter than your skin tone. Then blend, blend, blend and set it with some powder and you'll be good to go.
6. Double up on mascara
If you want your lashes to stand out double up on the mascara. But before you do that don't forget to curl them really well. When wearing glasses you want to prioritise curl over length so your lashes won't brush the lens every time you blink. When applying the second coat, focus on just the roots, not on the tips. Also, consider switching to waterproof mascara so that it doesn't smear over your specs throughout the day.
Did you find these makeup tips for glasses helpful? Let us know in the comments below.
Join Malini's Girl Tribe to be a part of the conversation.