Bigg Boss OTT Season 2 has reached a thrilling phase as the highly anticipated grand finale draws near. Viewers have been treated to a rollercoaster of emotions, explosive revelations, and unexpected clashes, making it an engaging watch. One standout task was the BB Hotel task, which brought about heartwarming moments as contestants finally reunited with their family members after more than 45 days apart. Adding to the excitement, the renowned filmmaker Mahesh Bhatt made a surprise appearance on the show to meet his daughter, Pooja Bhatt.
Here are top 5 updates of the recent episode…
1. Jiya Shankar And Her Mother Have An Emotional Moment
Jiya Shankar's mother enters the Bigg Boss house first as a guest and greets everyone. After that Jiya and her mother go and have a conversation where Jiya asks her mother if she said 'father' or 'father figure' to Jad Hadid. Jiya's mum clarifies that she said father figure and not father. This cleared many things for Jiya and she got emotional as her mother advices her that no one in the house is anyone's and that she should concentrate on the game and that she doesn't need anyone. Jiya's mother and her share an emotional moment as they recall tough times of their past.
2. Mahesh Bhatt Advices Contestants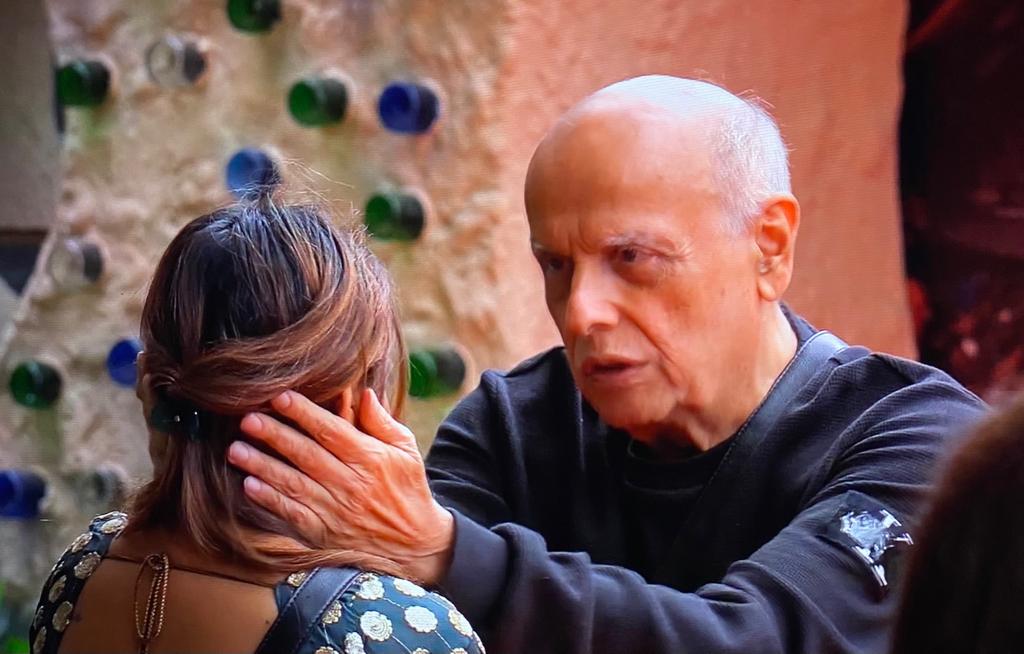 Mahesh Bhatt enters the house and individually spends time greeting everyone with love. Mahesh Bhatt goes to Pooja Bhatt and makes her emotional. He reveals interesting things about Pooja's initial career and how she was as an actress when she began her journey. He also individually speaks to Manisha which makes Manisha extremely emotional. Mahesh compliments Avinash Sachdev's pure relationship with Falaq Naazz as well. Mahesh then leaves the house after spending quality time.
3. Elvish Yadav And His Dad Discuss Manisha Rani
Elvish Yadav's dad talks about Manisha Rani to Elvish. Elvish clarifies it's all jokes and just harmless flirting. Manisha then joins this conversation and confesses her feelings for Elvish to his dad. Elvish's dad advices Manisha to not be so confused and concentrate on the game. Later that day even Elvish and Abhishek advice her and tell her that her flirting with Elvish is repetitive and must be reduced before it is taken in a wrong way by the audience.
4. Bebika Dhurve's Dad Face Reads Contestants
Bebika Dhurve's dad is a famous face reader Pandit Jagannath. He enters the house and does a face-reading session with the contestants. He reads Avinash, Jad, Pooja, Manisha, Abhishek, and Elvish's face. He tells Pooja that she will find a man younger than her but he'll make her very happy and they'll have a great relationship. Bebika's father told Manisha she will get married next year to a great man who loves her. He told Abhishek that he'll be extremely successful and will earn crores. The face-reading session made contestants very happy and they enjoyed it.
5. Pooja Bhatt Tries To Patch Up Jiya Shankar And Avinash Sachdev
Pooja Bhatt goes to Jiya Shankar and tells her that Avinash Sachdev doesn't want to break any relations with Jiya but wants to take some time off now for their betterment. Pooja advices Jiya to go and have a word with Avinash regarding this and explain to him that Jiya sees hope in their patch-up. Jiya talks to Avinash and he explains to Jiya how he needs time and cannot immediately forget what happened.
This episode was full of fun interactions with the family members which added twists and many opinions from their side which helped the contestants for the better. It's great seeing contestants get closer to each other as they bond with one another's family. I eagerly await to see who becomes captain this week and look forward to the next episode of Bigg Boss OTT 2!