Just when we thought we were in the clear for the year, tragedy struck last christmas, ie, 2 days ago. George Michael, one of the modern world's most beloved pop-culture icons, passed away, rather poetically, on Christmas Day, December 25th 2016. The world mourned the loss of a supremely talented singer, songwriter and performer who is known not just for the epic tunes he's written (click here to listen to MissMalini's playlist) but also for the indelible impression he's left by being one of the first to bring the two worlds of pop-culture and high fashion together. Today they pretty much go hand in hand but cut to the 1980's, he was one of only a handful of artists (like David Bowie, Madonna and Prince) who recognized fashion's power as entertainment, and found new and effective ways to put it to use in his music videos.
One of Michael's most memorable music videos is the one for this track "Freedom '90" which featured the original supermodels – Cindy Crawford, Naomi Campbell, Christy Turlington, Linda Evangelista, and Tatjana Patitz – all lip-syncing Michael's lyrics. The video was styled by Camilla Nickerson and directed by Academy Award nominee David Fincher (who was still unknown in Hollywood at the time but had directed a number of music videos through the 1980s, including Madonna's "Express Yourself."). Vogue Magazine even celebrated the 26th anniversary of this iconic video, this past October, with their own modernized version of the anthem featuring the top models of today – Adriana Lima, Joan Smalls, Anna Ewers, Irina Shayk and Taylor Hill.
The leading ladies of the original Freedom '90 video, friends and fans of the pop star paid tribute to him by posting heartfelt messages on their Instagram pages and it's got us all totally choked up:
Naomi Campbell
Christy Turlington
Tatjana Patitz
Cindy Crawford
Linda Evangelista
Kate Moss
Coco Rocha
Madonna
Elton John
Miley Cyrus
Kris Jenner
Through out his career George challenged gender stereo types and encouraged a generation of fans to be truly unique. He was a brave advocate for the LGBTQ community, who himself, after a rather controversial arrest in 1998, announced in an interview that he was gay.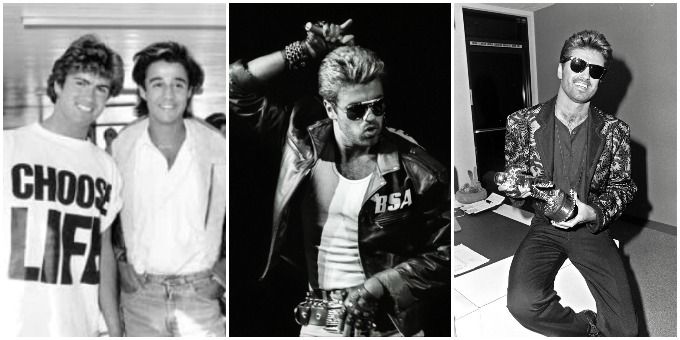 Girls and boys loved him for his big blond hair and pop, neon and flamboyant boy band style from his days as one-half of the pop duo "Wham!" and then loved him more when he launched his solo career with a whole new look – leather jacket, jeans, sunglasses, crucifix earrings and all. More recently George had adopted a new smarter look, performing in a selection of sharp tailored suits which he accessorised with his signature sunglasses and an oversized crucifix.
We're going to miss him, but his musical legacy lives on and so does his slay-worthy attitude to free-love and self expression. He will always be remembered and loved for his never predictable and always unique vision and words (click here to read all the heartbreaking Twitter tributes).
Really, 2016, can we please call it a wrap already?! Not sure we can take much more.
Are you with us in hoping 2017 is gentler with our hearts and our pop-icons? Tell us in your special hopes for the new year in your comments.