Our country right now is going through a very exhaustive and intense second wave of the COVID-19 pandemic. Given people are resorting to social media to ask for help and medical support, there has been backlash against people and celebrities who have been sharing glimpses of their vacations, citing it is insensitive to those who are fighting the COVID-19 battle in the country.
A lot of netizens have called celebrities out on this. But sometimes, netizens who are not properly informed also end up upsetting celebrities who are being responsible. Just yesterday, Varun Dhawan and wife Natasha Dalal were spotted at the airport. Varun was seen asking the paps and the people around to maintain social distancing and give them space. He was then called out by a few for coming from a vacation in the Maldives and 'showing his privilege'. Varun decided to take to the comments to respond to them and give his two cents on the matter.
Varun and Natasha were returning from Arunachal Pradesh, where he was shooting for his upcoming film, Bhediya. One person commented that he gave the paps a chance to click him as he returned from his vacation and then complained about it. Varun replied to them saying, "well your assumption is wrong I was shooting my film and not on holiday and what do u mean gave them a chance. How do u not give them a chance I have people who have also lost their life in covid so please keep ur assumptions to ur self."
Check out his response:
He responded to another person who asked of he was returning from the Maldives like other celebrities and reiterated that he was coming back from his shoot.
Check it out: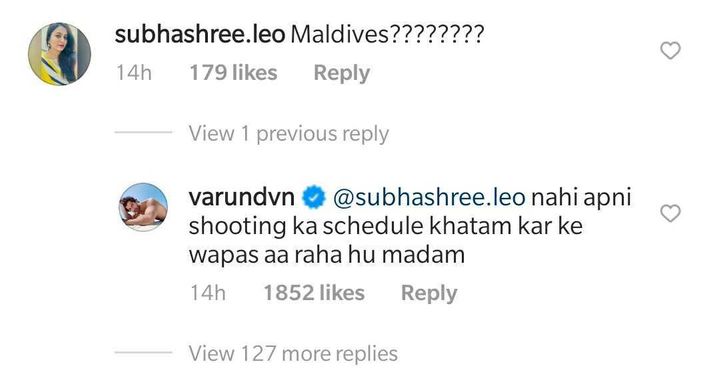 Varun also took down a creative his fan had made for his birthday, that falls on 24th April. He made it his DP and wrote, "Be Safe Guys". But he was called out for posting a birthday message when all of Twitter is filled with requests for medical help and support. He took it down saying, "Well it was to make someone happy who made the graphic and requested it but I guess this medium Shouldn't be used for that right now."
On the work front, Varun had just wrapped up the shoot of Jug Jugg Jeeyo alongside Kiara Advani, Neetu Kapoor and Anil Kapoor a while ago. He then moved on to shoot for the horror film, Bhediya, alongside Kriti Sanon, whose schedule they've just wrapped up in Arunachal Pradesh.
Amidst these uncertain and trying times, here's a gentle reminder to stay home, stay safe and stay kind to each other as we fight this battle.