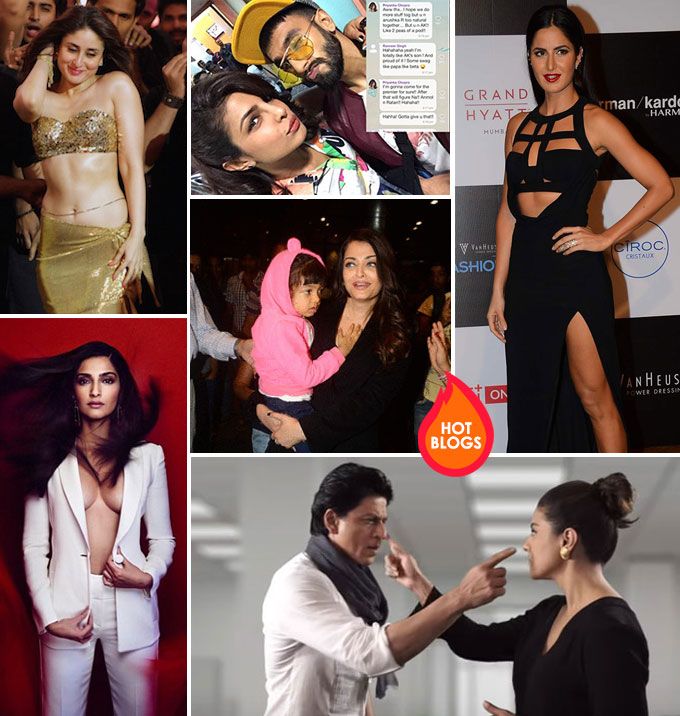 As we call it a wrap on 2015 I thought it might be nice to look back at the stories that tickled your fancy on MissMalini.com this year. The big, the badass, the brilliant and… the somewhat unexpected! And as is tradition, (or should be!) this blog comes with some BIG FAT AWESOME PRIZES!
Win Bollywood celeb signed power banks & diaries, just comment below with YOUR favourite story on MissMalini.com in 2015!
Don't forget to mention your city and the celeb you love most – so I give you the right fan loot, obvi. 🙂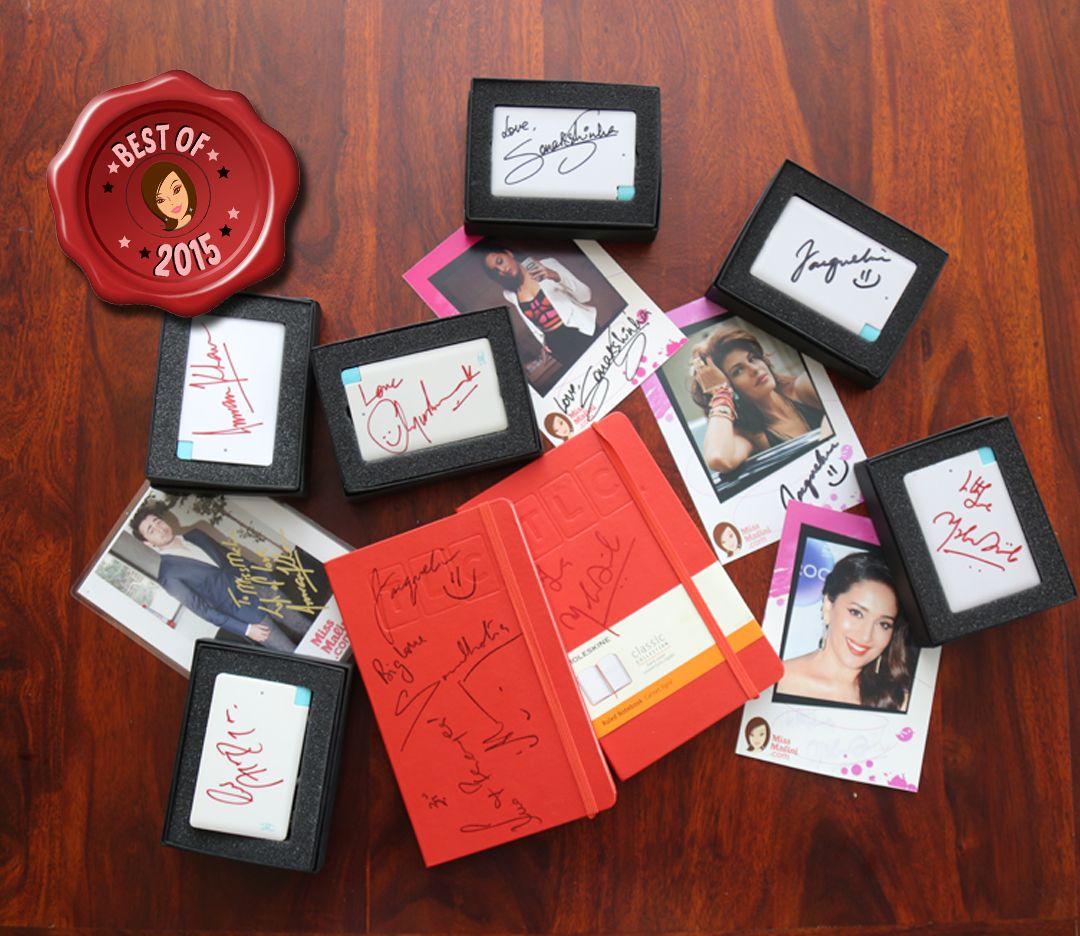 Celeb signed power banks & diaries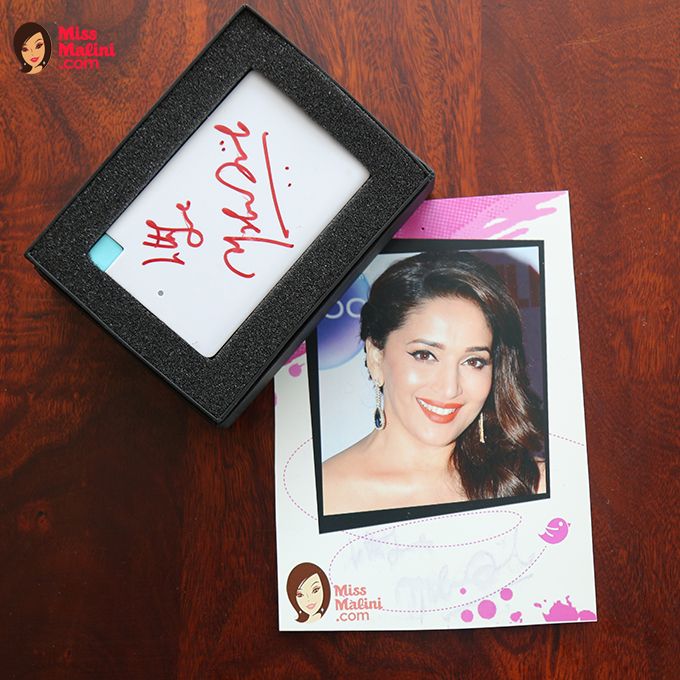 Madhuri Dixit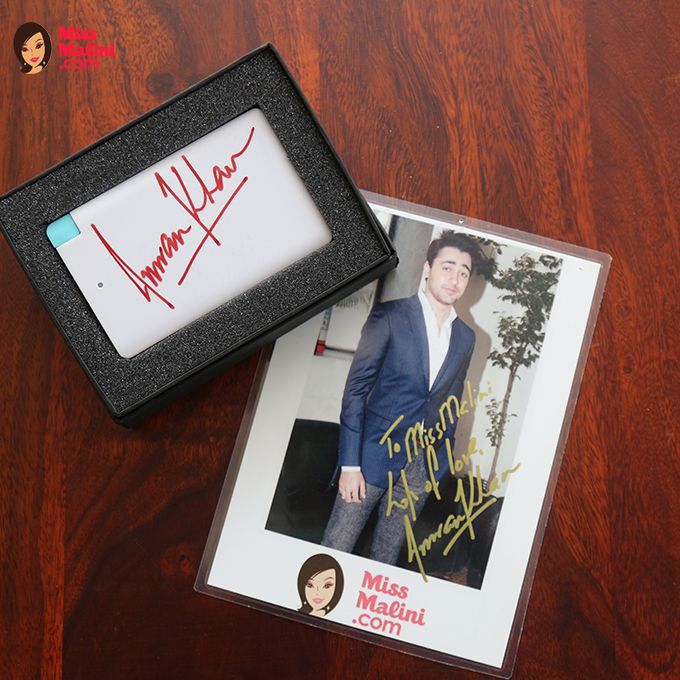 Imran Khan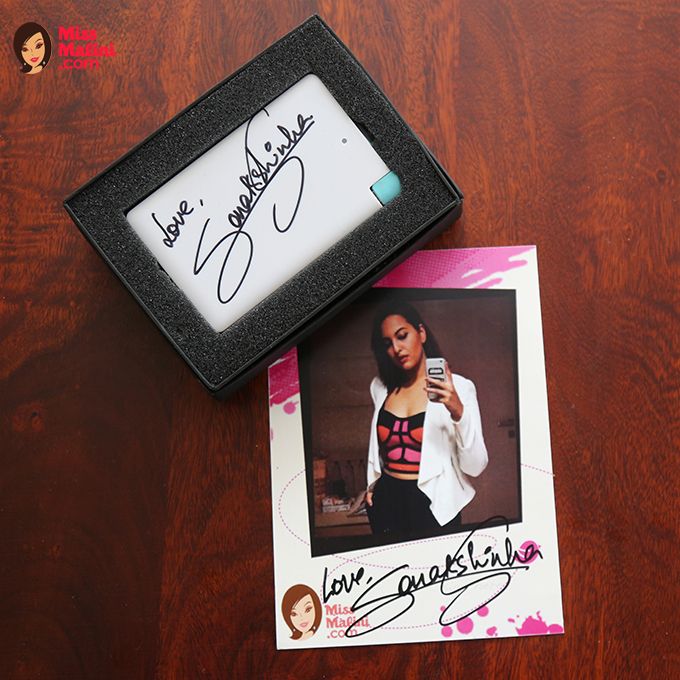 Sonakshi Sinha
Jacqueline Fernandez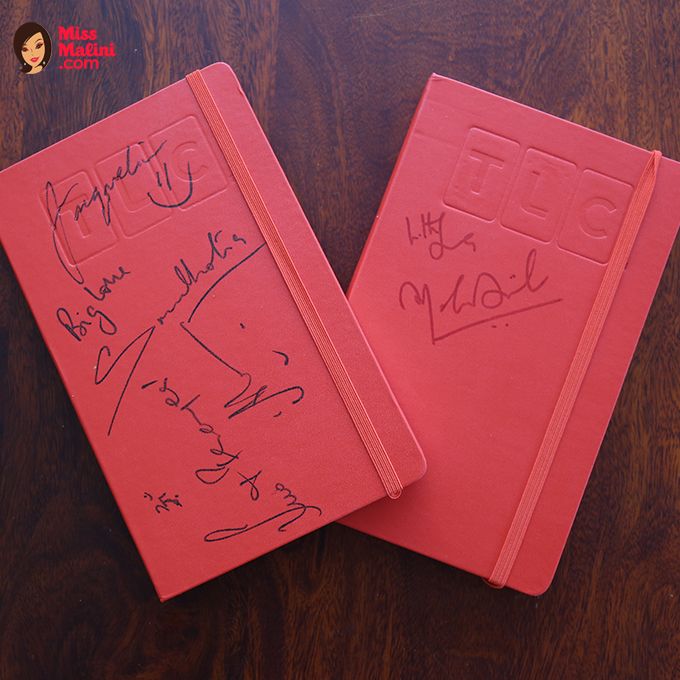 Akshay Kumar, Jacqueline Fernandez & Sidharth Malhotra / Madhrui Dixit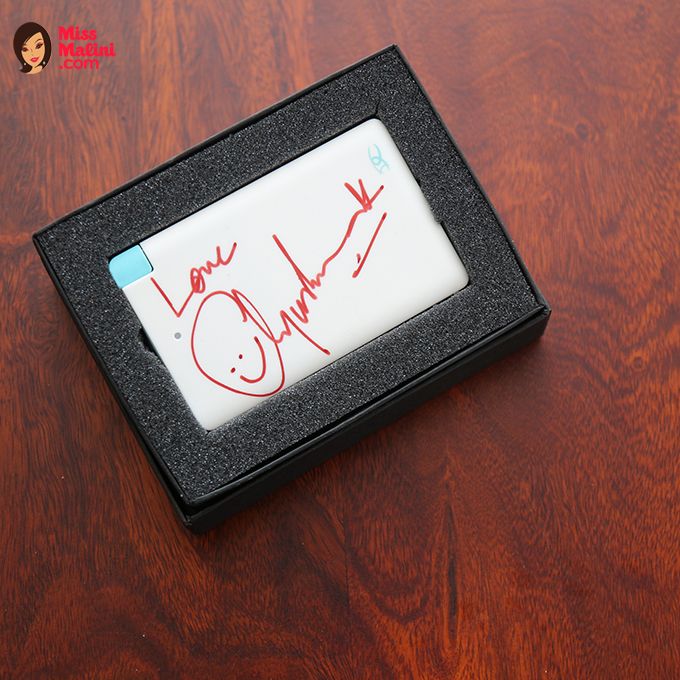 Ayushmann Khurana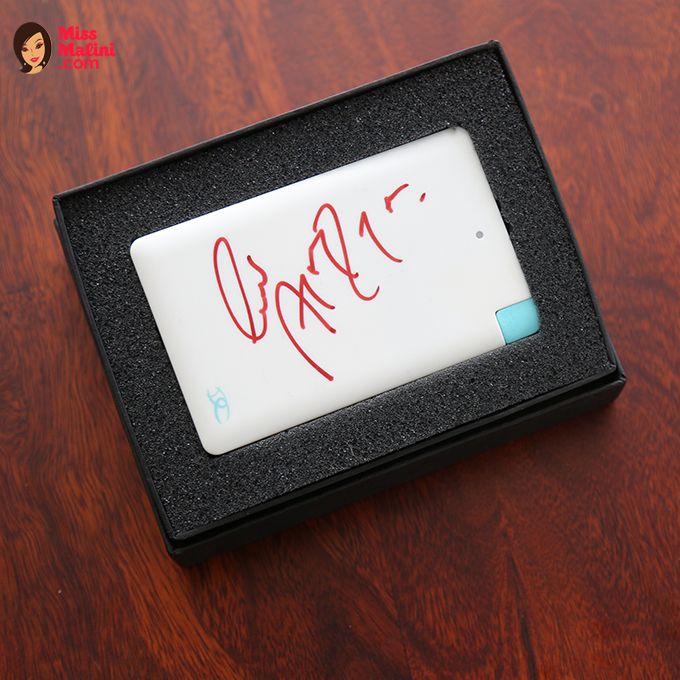 Ajay Devgn
1. Shahid & Mira All Day, Erryday!
Don't even try to deny it! From the time WE (yes we!) broke the story of Shahid Kapoor's impending wedding to a very non-filmy femme, the Internet went ape-shit. Errybody wanted to see pictures from INSIDE the reception, obviously the actual wedding, what Bollywood songs they danced to, what other Bollywood songs they danced to and of course, which Bollywood celebrities attended the wedding of the year (you even wanted to know what they wore!) In fact, did you want to know what Shmira look like hitting the gym together? (Hella ya! I'll admit, we got a bit misty-eyed when we heard Mira Rajput cried in SK's arms while he hugged her tight.) Everyone searched the internet till they found pictures of the new Mrs. Kapoor at her college farewell and the shutterbugs immediately added them to the top of the list when it comes to airport-spotting. (FYI, Anushka Sharma & Virat Kohli are a close second!) And yes, they're the kind of Bollywood couple that always hold hands and we kinda like it that way. 🙂 In case you missed it, here are the 10 things you needed to know about the Shahid-Mira wedding (like the fact that he gave her this bling ring!)
Psst! Last I checked you even liked how Mira nailed the naked dress trend and what she wore for Christmas, didntchya? I finally met her at Masaba Gupta's wedding reception for the first and FYIP, she's just as lovely as she looks.
2. Bollywood Belles Looking Smoking Hot!
But obvs. Everybody loves them a little Sonam Kapoor on the cover of a magazine (looking insanely hot btw). And who doesn't want to chime in on the who wore the bikini better debate – Alia, Bips or Sonam? (Although everybody knows Priyana Chopra is our beach bae and has rocked her bikini bod at least 7 drool-inducing times!) The workout of the year award however goes to Bhumi Pednekar for THIS transformation, but we're deffy also giving props to Rani Mukerji for her bombshell makeover! And can we please talk about Genelia Deshmukh's adorable post-baby glow. #DoubleAwww
PS. I'm on a mission to learn & teach you how to tie the sexiest Bollywood sari (ekdum PC Dostana style) in 2016, so stay tuned!
3. Weddings Sheddings.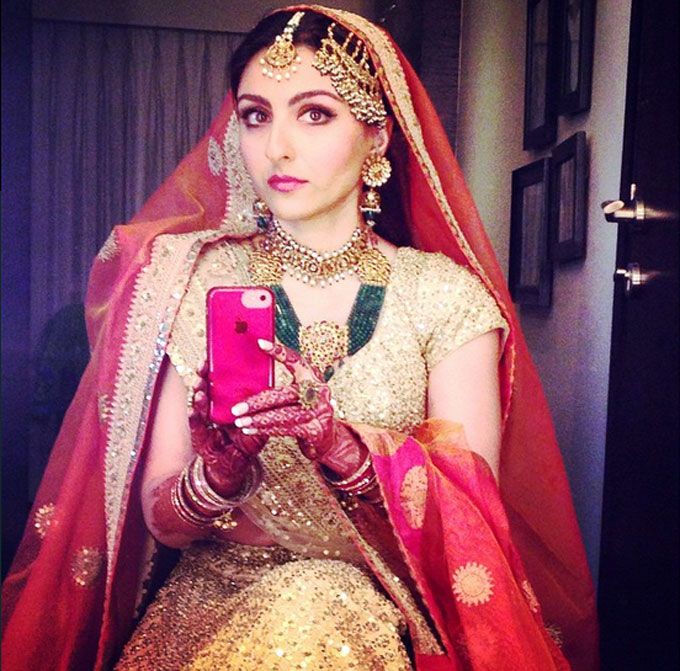 There were a bunch of "happily ever afters" this year where Bollywood broke out its bling. From Soha Ali Khan & Kunal Khemu's grand reception to cricketer Rohit Sharma & Ritika Sajdeh's big fat Indian do, (where of course Sonakshi Sinha was the star/BFF of the bride). Sona also brought her a game to her brother's Luv Sinha's reception. Another cricketer, Suresh Raina also tied the knot as did TV sweethearts Karan Patel & Ankita Bhargava and designer Nishka Lulla had a real fairytale wedding but you guys were STILL checking out these 25 inside photos of Arpita Khan's big fat Indian wedding! (And for some reason also tripping out on Kareena Kapoor's engagement ring. It's ok, I like shiny things too.) Meanwhile Masaba Gupta got married and the whole wedding was documented by the trigger-happy guests on Instagram, #loveit!
4. Major TV Show Nostalgia!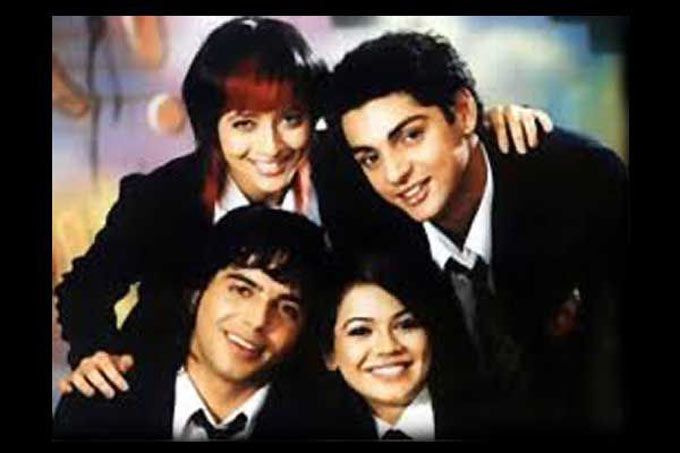 For some reason Team MissMalini went into major #ThrowbackThursday nostalgia mode this year and started reminiscing about all their favourite TV shows. As it turns out, you miss Remix just as much as we do! Did you see what the original cast is up to now? And how could we ever forget the cast of Hip Hip Hurray. Even the Viva girls are all growns up and this kid for Hum Saath Saath Hai and this one from Shaka Laka Boom Boom gave us major #90sbaby feels! The craziest was seeing characters like little Poo from the TV show Kabhi Khushi Kabhie Gham and Fruity from Sonpari post puberty! Meanwhile Alia Bhatt's #tbt clicks gave us a glimpse into her adorable teen years, baby fat and all *awwww!* Even Sarabhai waxed eloquent with these unbelievable poems. BUT these are the 17 vintage Bollywood pictures you CANNOT UNSEE. (Don't say I didn't warn you #justsaying.) Ok now go and have some comfort food, did someone say Maggie?
PS. Doesn't Priya Wal aka Anvesha Banerjee Ray majorly remind you of Bani J?!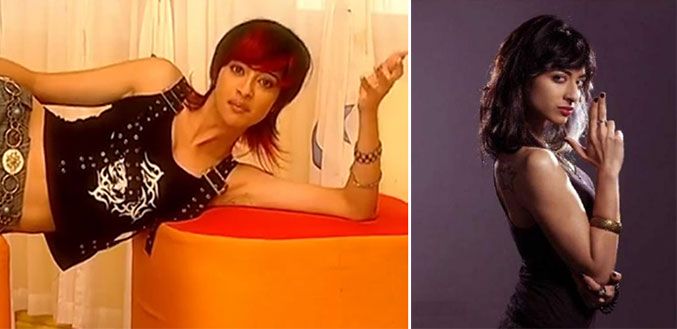 5. The Bachchan Bachchas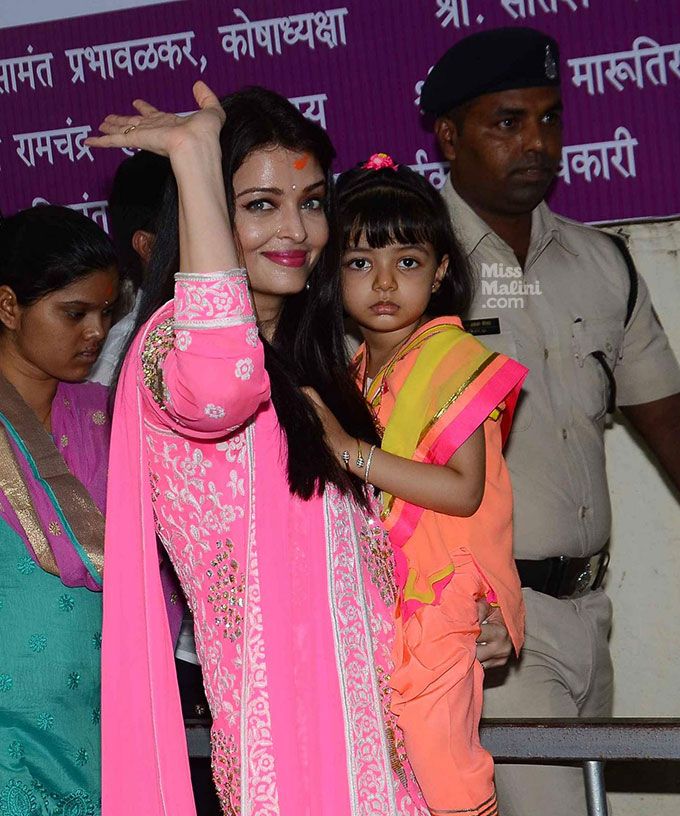 Ever since Aaradhya Bachchan arrived there is no doubt who the first baby of Bollywood is! Now I'm not sure how long the nanny that was spilling secrets kept her job but it appears baby B is being raised good and proper with those traditional Indian values. We even spotted her touching grandpa Bachchan's feet before she left (for Cannes of course!) Amitabh Bachchan threw the grandest Diwali party this year and everybody who's anybody in Bollywood turned up. And we spotted Aishwarya Rai Bachchan on a rare casual day at the airport with little miss B by her side.
6. Of Course, Bigg Boss 9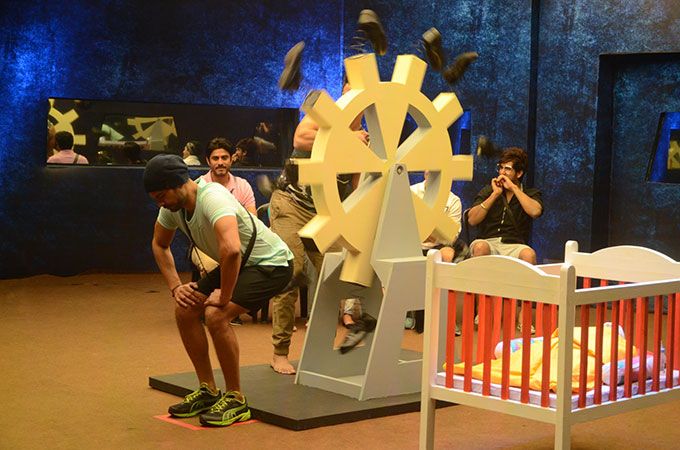 9 seasons of Bigg Boss and you're STILL not tired of watching the hunger games, cat fights and crazy dares eh? But who are we to judge 🙂 we were watching too! From the notorious list of inmates to live blogging the premiere (and all the massive potential for drama) to warning how NSFW these naked tweets of former Bigg Boss contestant Sofia Hayat for her ex-boyfriend Rohit Sharma were. You got it all, and then some! (BUT some of you were too busy calling out the big fat error in Bajrangi Baijaan!)
Psst! What you probably didn't know was that they asked me to be on the show. I seriously considered it and then realised there's no way I would survive 12 weeks in that madhouse… without my phone 😉
7. That's Outrageous!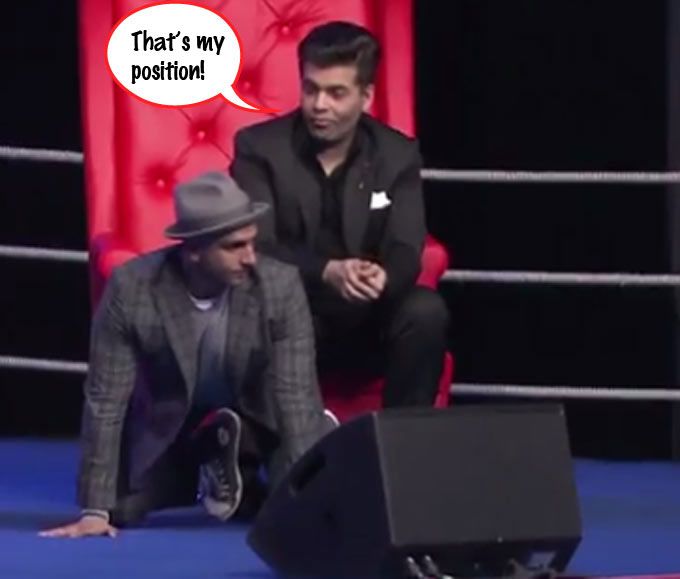 We also noticed that the stuff that really got under your skin were topics like these: The porn ban – but we helped you out with a list of super erotic movies you could watch at home instead 🙂 – although we're still wondering how these 11 super creepy Bollywood sex scenes are still on the market! Then there was this lady who body-slammed a guy who tried to harass her in public! This kick-ass open letter by a to the Mumbai police for detaining his daughter. The time this girl called out her cheating boyfriend on Twitter and when we suddenly realised that Sunita Rao's song Pari Hoon Main might have been about child abuse. Also the time this perv was arrested for hassling Jasleen Kaur. And India's first ad with a lesbian couple was something to be proud of. But our personal fave (and we're still bummed they had to private the video) that AIB Roast AND Twinkle Khanna's open letter about it!!! #BeyondEpic
PS. Remember the 7 times you were totally outraged in 2014?
8. A Passion For Fassion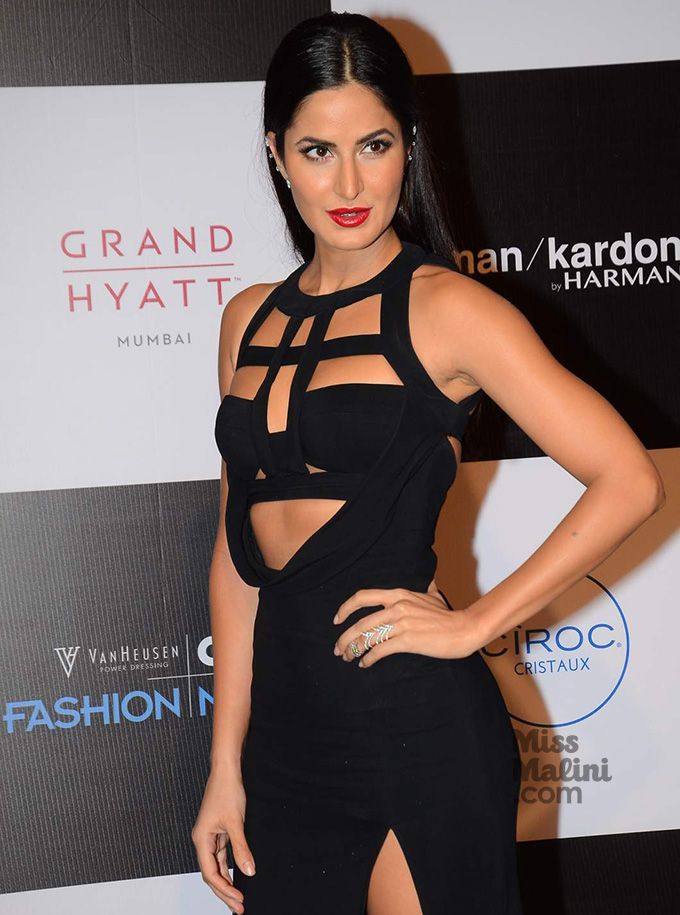 Plenty of love on the blog for fashionista's everywhere! Starting with these 10 daring outfits only a ballsy girl would wear (would you?). BandraRoad's secrets of the streets still had you intrigued… none of us could look away when these 5 celebrities showed up to the MTV VMA's practically naked (ditto Met Gala, naked much?!) The Kardashian's showed us how to channel "hot mom". Someone other than Aish wore Sabyasachi to Cannes! While Genelia looked ravishing in gold. Sonakshi totally upped her badass image while totally nailing it on Instagram as well. And Kareena went ahead and reinvented the sari blouse. Bollywood showed us how to keep your sweater swag and we showed you how to keep your Bollywood swagger :o) – pun totally intended Tanu & Manu! We also decided it was time to give some props to all the celebrity stylists who are killing it in 2015, mad respect. (And yes, Mallika Sherawat, you too!) Sridevi's daughters proved they have mom's sense of style. And PC dressed just like we do and Alia showed us just how low maintenance she can go! Also, we love that Deepika wore a dress with pants and it totally worked. PS. Kriti Sanon we want this dress! Hot dayum Katrina Kaif, just look at that dress right up there with PC's outfit from her World's Got Talent performance! But our photo shoot of the year goes to Ranveer and Deepika because JUST LOOK AT THEM! (FYI, since it's always about the hair don't miss this new trick to washing it!)
9. The Stuff That Went Viral!
Nobody knows the recipe to viral success but if these events are anything to go by all you need are a dozen cupcakes and a whole lot of time to waste! (Admit it, these cupcakes totally DO like Deepika Padukone!) You loved her Mother's Day video too 🙂 and Radhe Ma, really? Meanwhile Rakhi Sawant read mean tweets and this girl rapped an open letter to Yo Yo Honey Singh! Even Akshay Kumar jumped in the mix and posted this crazy video with his sister while Alia Bhatt was making her EPIC Dubsmash debut! The Humans of Bombay blew us away, yet again and we decided to cast The Game of Thrones, Bollywood style! Meanwhile Ranveer Singh and Priyanka Chopra had a little Viber chat we all spied on! Even this #VogueEmpower video featuring Deepika Padukone went viral (and I got to be in it!)
10. Basically, You Love Pictures! (Mostly of Kareena Kapoor)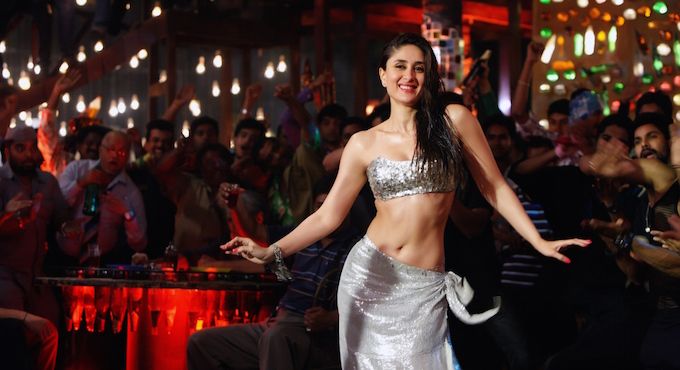 Whether its Kareena Kapoor Khan & Saif Ali Khan On a a family vacay with Soha Ali Khan & Kunal Kemmu, or Bebo at her BFFs baby shower, or Kareena and Saif just looking cute together, or who designed her va va voom outfit for Mera Naam Mary… you wanna see it all! And of course if there's like, 38 pictures from the sets of Dil Dhadakne Do or evidence that Sanjay Dutt's daughter, Trishala Dutt is ready for Bollywood! We personally LOVED these photos of Deepika and Anushka Sharma because they made all our girl crush dreams come true! Lisa Ray shared her personal photo albums while we had brunch with the cast of DDD! You meanwhile were browsing naked photos of Kim Kardashian because how else would Kanye celebrate bae's birthday? :o)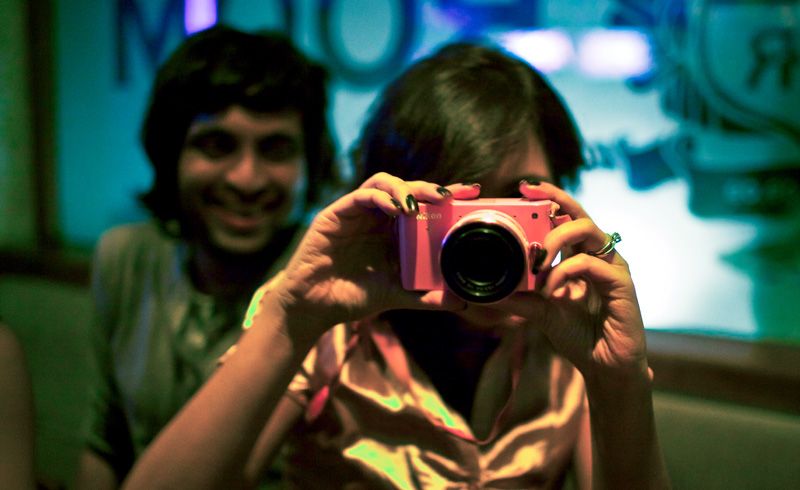 So there you have it, 2015 in (oh I don't even know how many blogs but at least 150!) Now go make me proud and dance up a storm to my favourite Bollywood songs of 2015 (like all these legends did on Nach Baliye 7 (full list of contestants) & Jhalak Dikhlaja 8 (full list of contestants) 8 (one day I'm TOTALLY doing that show btw) and if you're stuck here's a list you can refer to when you say "DJ waale babu mera gaana chala do!" 🙂 I'll see you on the other side (or possible at midnight if you're hitting up these parties!) You know I love you, #tothemoon xoxo
Er… I would be remiss if I didn't mention that the utter highlight of MY year came right at the very end. This EPIC opportunity to star in a short sketch movie direct and produced by Team MissMalini. I mean, how IS this my life again?! (And yup, we crossed 1 MILLION VIEWS!) #HappyDance
// <![CDATA[ (function(d, s, id) { var js, fjs = d.getElementsByTagName(s)[0]; if (d.getElementById(id)) return; js = d.createElement(s); js.id = id; js.src = "//connect.facebook.net/en_US/sdk.js#xfbml=1&#038;version=v2.3"; fjs.parentNode.insertBefore(js, fjs);}(document, 'script', 'facebook-jssdk')); // ]]>
EXCLUSIVE: Shah Rukh Khan & Kajol Call MissMalini With Juicy G…OMG! Shah Rukh Khan and #Kajol just called me with some insane gossip! What is my life?? Starring: Shah Rukh Khan, Kajol & MissMaliniWritten & Directed by my ace team! Shreemi Verma, Rashmi Daryanani, Aayushi Bhargava, Priyam Saha, Anushka Mulchandani, Devanshi Kapadia & Nowshad RizwanullahCamera: Rishabh Maliwar, Sahil Shah, Anu Varghese, Sameer Mayekar, Rakesh SawantEditor: Rushabh ShahClick subscribe for more updates:http://www.youtube.com/subscription_center?add_user=missmalinivideos
Posted by MissMalini on Wednesday, December 23, 2015